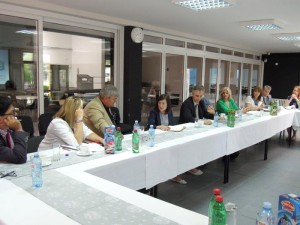 The director of the Austrian Public Employment Service (AMS), Mr Herbert Buchinger, the coordinator of the administrative board of this institution, Ms Erika Jaklitsch-Schmitt, and the attaché for labour and social affairs, Mr Oliver Hiller, as well as the representatives of the national and provincial employment service have visited the Educational Training Centre for Professional and Working Skills today. The activities of this institution were presented to the visitors, as well as the "Knowledge to Everyone"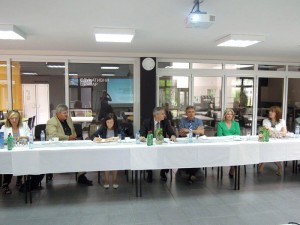 project and other projects in which the Educational Training Centre takes part as a partner institution.
The director of the Educational Centre, Mr Budislav Medurić, presented the activities of the Educational Training Centre, whereas the director of the Office for the Implementation of the Development Programme of the Autonomous Province of Vojvodina, Ms Dijana Benka-Rosić, gave a presentation on the "Innovative System for Knowledge and Skills Improvement – Knowledge to Everyone" project, which is realized by the Office. She also presented other projects which contributed to the foundation and work of the Educational Training Centre and which have been funded by the EU.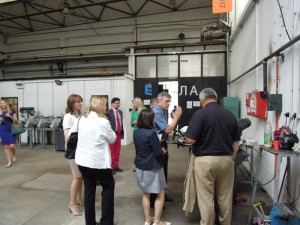 Together with the director of the National Employment Service, Mr Zoran Martinović, the director of the Provincial Employment Service, Mr Nebojsa Kukić and the director of the Novi Sad branch of the National Employment Service, Ms Tatjana Vidović, the visitors made a tour of the Educational Training Centre exchanging their knowledge and experience regarding successful implementation of the European projects
Novi Sad, 9th June 2015